In a small city like Oxford it shouldn't take long to exhaust all restaurant options. A
search on TripAdvisor
returns 320 (ish) restaurants within the Oxford ring-road - less than one a day in a single year.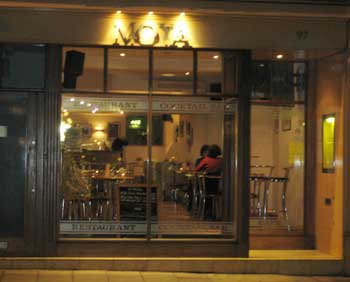 It's a shame then that each time I've visited
St. Clements
in the past five years - a tiny pin-head of an area in East Oxford - I've marched straight past
Moya
to sample, yet again, seafood from
Fishers
and Italian delights from
La Cucina
. One shouldn't usually dwell on regrets, but I'm definitely kicking myself for not having tried this place before. Perhaps it's the 'unknown' element of Slovakian food or the slightly drab exterior that has stopped me from venturing in.
Never judge a book by it's cover. Moya may seem drab outside, feel not unlike a slightly cheap kitchen extensive inside, and be occupied by students taking advantage of early-evening discounted cocktails, but the food is excellent. Devil's toast to start, followed by the rabbit special - both with enough spice to almost make up for the sub-zero temperatures outside - would not have looked, or tasted, out of place in many a smarter and more expensive restaurant. As it was two courses each and two beers came in at around £15 a head. And that was my only complaint. I expected to add a new and most definitely Slovakian beer to this blog, but
Czech Budvar
(5.0%) is something I could have picked up anywhere.
Moya doesn't feature in the
Good Food Guide 2013
- a shame as aside from a couple of Asia cuisines the guide doesn't offer much in the way of the exotic for Oxford - however, on this showing it should definitely find itself in the next edition.